Z-TapeBackup allows you to easily copy any backup archive, file or folder to tape.
Create one-time data lists to quickly copy files to tape or save up to 20 backup jobs for regular execution.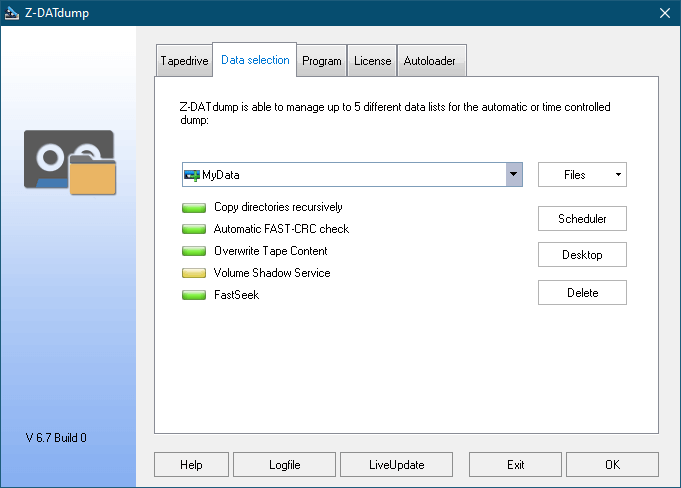 Z-TapeBackup supports all major tape drives and connections (USB, S-ATA, SCSI, SAS, IDE).
The following tape drive technologies have been tested with Z-TapeBackup:
Tape drives are controlled using the ASPI- and SPTI- programming interfaces.
The tape drive has to be recognised by Windows and displayed in the device manager. You can use the freeware version to check if Z-TapeBackup works correctly with your setup.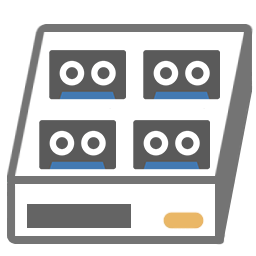 Z-TapeBackup Library can control tape libraries and autoloader.
This allows you to load the right tape automatically on scheduled backup tasks.
Z-TapeBackup can be used as a stand-alone program or as an add-on for Z-DBackup.
Z-DBackup is our main backup program offering extensive options for professional backups.
Various backup strategies for tape backups can be realised when using Z-DBackup and Z-TapeBackup together. They are the perfect duo for fully automatised backups in enterprises.
Backup tasks for tape drives can be created and fully managed from within Z-DBackup.
The files are copied directly onto tape. This is the same way Z-TapeBackup as a stand-alone program works.
If a backup is to big for a single tape Z-DBackup can split up the backup onto up to 10 tapes.
The files to backup are backed up to a different location first, e.g. as an encrypted backup archive on a network drive. Afterwards the created backup archive will be copied onto tape.
Z-DBackup can create a system image backup of your whole Windows partition (and any further partitions/drives) and copy it onto tape. To restore your system the image has to be copied from tape to a hard drive first before Windows can restore your computer from the system image.
Prices for the server versions can be found in our shop. 
All prices include VAT
Backup Verify
(Fast-CRC check)
File Filter 
(exclusiv / inclusiv)