Andreas Baumann
IMU Hard- und Softwareservice
Saalmannstr. 7-9, Gebäude 2 TH3
D-13403 Berlin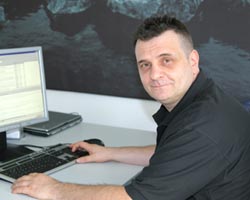 ---
1) Information on the Collection of personal Data and Contact Details of the Person responsible
1.1 We are pleased that you are visiting our website and thank you for your interest. In the following, we inform you about the handling of your personal data when using our website. Personal data is all data with which you can be personally identified.
1.2 The controller in charge for data processing on this website within the meaning of the General Data Protection Regulation (GDPR) is Andreas Baumann, IMU Hard- und Softwareservice, Saalmannstr.9, 13403 Berlin, Deutschland, Tel.: 01590 6510302, E-Mail: support@z-dbackup.de. The person responsible for the processing of personal data is the natural or legal person who decides alone or together with others on the purposes and means of processing personal data.
1.3 This website uses SSL or TLS encryption for security reasons and to protect the transmission of personal data and other confidential content (e.g. orders or inquiries to the controller). You can see an encrypted connection on the string "https://" and the lock icon in your browser line.
2) Data Collection when Visiting our Website
When using our website in an informative way, i.e. if you do not register or otherwise provide us with information, we only collect data that your browser transmits to our server (so-called "server log files"). When you visit our website, we collect the following data that is technically necessary for us to show you the website:
Our website visited
Date and time at time of access
Amount of data sent in byte
Source/I note from which you reached the site
Browser used
Operating system used
IP address used (if applicable in anonymised form)
The processing is carried out in accordance with Art. f GDPR based on our legitimate interest in improving the stability and functionality of our website. There will be no disclosure or other use of the data. However, we reserve the right to check the server log files retrospectively should concrete indications of unlawful use indicate.
3) Cookies
To make visiting our site attractive and to allow the use of certain functions, we use so-called cookies on various pages. These are small text files that are stored on your device. Some of the cookies we use are deleted after the end of the browser session, i.e. after closing your browser (so-called session cookies). Other cookies remain on your device and allow us or our partner companies (third-party cookies) to recognize your browser the next time you visit (persistent cookies).
When cookies are set, they collect and process certain user information, such as browser and location data, as well as IP address values, on an individual scale. Persistent cookies are automatically deleted after a specified duration, which may differ depending on the cookie. Insofar as individual cookies implemented by us also process personal data, the processing takes place in accordance with Art. b DSGVO either for the execution of the contract or in accordance with Art. 6 para. 1 lit. F GDPR to safeguard our legitimate interests in the best possible functionality of the website as well as a customer-friendly and effective design of the site visit.
We may work with advertising partners to help us make our website more interesting to you. For this purpose, cookies from partner companies will also be stored on your hard drive (third-party cookies) for this purpose when you visit our website. When we work with previously designated advertising partners, you will be informed individually and separately about the use of such cookies and the amount of information collected within the sales below.
Please note that you can set your browser in such a way that you can be informed about the setting of cookies and decide individually whether to accept them or exclude the acceptance of cookies for certain cases or in general. Each browser differs in the way it manages cookie settings. This is described in the help menu of each browser that tells you how to change your cookie settings. These can be found for the respective browsers under the following links:
Microsoft Edge: https://support.microsoft.com/en-us/microsoft-edge/temporäres-allow-of-cookies-and-website-data-in-microsoft-edge-597f04f2-c0ce-f08c-7c2b-541086362bd2
Firefox: https://support.mozilla.org/en/kb/cookies-allow-and-reject
Chrome: http://support.google.com/chrome/bin/answer.py?hl=en&hlrm=en&answer=95647
Safari: https://support.apple.com/en-us/guide/safari/sfri11471/mac
Opera: http://help.opera.com/Windows/10.20/en/cookies.html
Please note that failure to accept cookies may limit the functionality of our website.
4) Contact
Personal data will be collected as part of the contact with us (e.B. via contact form or e-mail). Which data is collected in the case of the use of a contact form can be seen from the respective contact form. This data will be stored and used exclusively for the purpose of answering your request or for contacting and the associated technical administration. The legal basis for the processing of this data is our legitimate interest in answering your request in accordance with Art. 6 para. 1 lit. F DSGVO. If your contact is aimed at concluding a contract, the additional legal basis for the processing is Art. (b) DSGVO. Your data will be deleted after the final processing of your request. This is the case if it can be inferred from the circumstances that the facts concerned have been finally clarified and provided that there are no statutory retention obligations to the contrary.
5) Page functionalities
5.1 Use of YouTube videos
This website uses the YouTube embedding function to display and play videos from the provider "Youtube", which belongs to Google Ireland Limited, Gordon House, 4 Barrow St, Dublin, D04 E5W5, Ireland ("Google"). This uses the advanced privacy mode, which, according to vendor information, does not set in motion the storage of user information until the videos are played. When embedded Youtube videos are started playing, the "Youtube" provider uses cookies to collect information about user behavior. According to "Youtube," these are used, among other things, to collect video statistics, improve usability and prevent abusive actions. If you are logged into Google, your data will be directly associated with your account when you click on a video. If you don't want to assign it to your profile on YouTube, you need to log out before the button is activated. You have the right to object to the formation of these user profiles, whereby you must address it to YouTube. As part of the use of Youtube, there may also be a transfer of personal data to the servers of Google LLC. in the U.S. Regardless of a playback of the embedded videos, a connection to the Google network is established each time this website is accessed, which can trigger further data processing operations without our influence. All processing described above, in particular the reading of information on the terminal device used via the tracking pixel, will only be carried out if you inform us in accordance with Article 6 (1) (f) GDPR. a GDPR have given your express consent to this. Without this granting of consent, the use of YouTube videos during your visit to the site will be omitted. You can revoke your consent at any time with effect for the future. To exercise your revocation, please deactivate this service in the "Cookie Consent Tool" provided on the website via alternative options communicated to you on the website. Further information on data protection at "Youtube" can be found in the YouTube Terms of Use under https://www.youtube.com/static?template=terms as well as in Google's privacy policy under https://www.google.de/intl/de/policies/privacy
5.2 – FontAwesome
This site uses so-called web fonts from "FontAwesome", a service of Fonticons, Inc., for the uniform display of fonts. 710 Blackhorn Dr, Carl Junction, 64834, MO, USA ("FontAwesome"). When you visit a page, your browser loads the required web fonts into its browser cache to display texts and fonts correctly. For this purpose, the browser you are using must connect to FontAwesome's servers. This may also lead to a transfer of personal data to the servers of FontAwesome in the USA. In this way, FontAwesome becomes aware that our website has been accessed via your IP address. The processing of personal data in the course of the connection with the provider of the fonts will only be carried out if you inform us in accordance with Article 6 (1) (f) GDPR. a GDPR have given your express consent to this. You can revoke your consent at any time with effect for the future by deactivating this service in the "Cookie Consent Tool" provided on the website.If your browser does not support Web fonts, a standard font is used by your computer. Further information on FontAwesome can be found at: https://fontawesome.com/privacy
5.3 Google Translate
This site uses the translation service "Google Translate" of Google Ireland Limited, Gordon House, 4 Barrow St, Dublin, D04 E5W5, Ireland ("Google") via an API integration. To ensure that the translation is automatically displayed according to your choice of a national language, the browser you are using connects to Google's servers. Google uses so-called "cookies", which are text files that are stored on your computer and that enable an analysis of your use of the website. The information generated by the cookie about your use of this website (including the shortened IP address) is usually transmitted to a Google server and stored there, and it can also be transmitted to the servers of Google LLC. in the U.S. If personal data is processed, this is done in accordance with Article 6(1)(f) GDPR. f GDPR on the basis of our legitimate interest in barrier-free and universal accessibility of our website. Further information on Google Translate and Google's privacy policy can be viewed at: https://www.google.com/policies/privacy/ As far as legally required, we have your consent to the processing of your data described above in accordance with Article 6(1)(f) GDPR. a DSGVO. You can revoke your consent at any time with effect for the future. To exercise your revocation, deactivate this service in the "Cookie Consent Tool" provided on the website.
6) Tools and Other
Cookie Consent Tool
This website uses a so-called "cookie consent tool" to obtain effective user consent for cookies and cookie-based applications that require consent. The "Cookie Consent Tool" is displayed to users when the page is accessed in the form of an interactive user interface on which consents for certain cookies and/or cookie-based applications can be given by ticking the box. Through the use of the tool, all cookies/services requiring consent are only loaded if the respective user gives corresponding consent by ticking the box. This ensures that such cookies are only set on the respective end device of the user if consent has been given.
The tool sets technically necessary cookies to store your cookie preferences. Personal user data is generally not processed here. If, in individual cases, personal data (such as the IP address) is processed for the purpose of storing, assigning or logging cookie settings, this will be carried out in accordance with Article 6(1)(f) GDPR. f GDPR on the basis of our legitimate interest in a legally compliant, user-specific and user-friendly consent management for cookies and thus in a legally compliant design of our website. Another legal basis for the processing is Article 6(1)(f) GDPR. c GDPR. As the controller, we are subject to the legal obligation to make the use of technically unnecessary cookies dependent on the respective user consent. Further information on the operator and the setting options of the cookie consent tool can be found directly in the corresponding user interface on our website.
7) Rights of the Person concerned
7.1 The applicable data protection law grants you the following rights of data subjects (rights of information and intervention) vis-à-vis the controller with regard to the processing of your personal data, whereby reference is made to the legal basis stated for the respective exercise requirements:
Right to information in accordance with Article 15 GDPR;
Right to rectification pursuant to Article 16 GDPR;
Right to erasure in accordance with Article 17 GDPR;
Right to restriction of processing pursuant to Article 18 GDPR;
Right to information pursuant to Article 19 GDPR;
Right to data portability in accordance with Article 20 GDPR;
Right to revoke granted consent in accordance with Article 7 (3) GDPR;
Right to lodge a complaint pursuant to Article 77 GDPR.
7.2 RIGHT TO OBJECT IF WE PROCESS YOUR PERSONAL DATA IN THE CONTEXT OF A BALANCING OF INTERESTS ON THE BASIS OF OUR OVERRIDING LEGITIMATE INTEREST, YOU HAVE THE RIGHT AT ANY TIME TO OBJECT TO THIS PROCESSING WITH EFFECT FOR THE FUTURE ON GROUNDS ARISING FROM YOUR PARTICULAR SITUATION. MACHEN OF YOU WIDERSPRUCHSRECHT GEBRAUCH, BEENDEN WE THE VERARBEITING THE BETROFFENEN DATEN. A WEITERVERARBEITING BLEIBT BUT VORBEHALTEN, WENN WE TO GREAT GREAT FOR FOR THE VERARBEITING NOTE, THE YOUR INTERESSEN, GRUNDRECHTE AND GRUNDFREE OUT OF THE VERY, OF THE GOOD, OUT OF OR FOR RECHTSANSPRÜCHEN DIENT. TRUE YOUR PERSONENBEZOGEN OF US VERARBEITET, UM DIREKTWERBUNG TO BETREIBEN, HAVE THE RECHT, EVERZEIT WIDERSPRUCH GOOD THE VERARBEITUNG YOU BETREFFENDER PERSONENBEZOGENER DATES TO TO TIME DERARTIGER ONLY EINZULEGEN. YOU THE WIDERSPRUCH WIE OBEN OBEN OBUST. MACHEN OF YOU OF THE WIDERSPRUCHSRECHT GEBRAUCH, BEENDEN WIR THE VERARBEITING THE BETROFFENEN THE TO DIREKTERECKEN.
8) Duration of the Storage of personal Data
The duration of the storage of personal data is determined on the basis of the respective legal basis, the purpose of processing and – if relevant – additionally on the basis of the respective statutory retention period (e.B. commercial and tax retention periods). In the processing of personal data on the basis of express consent pursuant to Art. 6 para. 1 lit. a DSGVO, this data is stored until the person concerned revokes his consent. There are statutory retention periods for data that are in the context of legal transaction or quasi-legal obligations on the basis of Art. 6 para. 1 lit. b DSGVO, this data will be routinely deleted after expiry of the retention periods, provided that they are no longer necessary for the fulfilment of the contract or initiation of the contract and/or that there is no legitimate interest on our part in further storage. In the processing of personal data on the basis of Art. 6 para. 1 lit. f DSGVO, this data will be stored until the data subject exercises his right to object pursuant to Article 21 (1) GDPR, unless we can demonstrate compelling legitimate grounds for the processing that outweigh the interests, rights and freedoms of the data subject, or the processing serves to assert, exercise or defend legal claims. In the processing of personal data for the purpose of direct marketing on the basis of Art. 6 para. 1 lit. f DSGVO, this data will be stored until the person concerned exercises his right to object pursuant to Article 21 (2) GDPR. Unless otherwise apparent from the other information in this declaration on specific processing situations, stored personal data will otherwise be deleted if they are no longer necessary for the purposes for which they were collected or otherwise processed.
Andreas Baumann IMU
Hardware and Software Service
Saalmannstr. 7-9, Building 2 TH3
D-13403 Berlin